Save Energy with Crawl Space Encapsulation in Central Indiana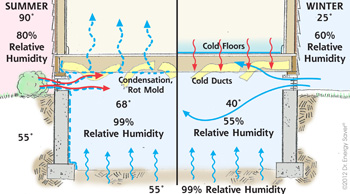 Encapsulating your crawlspace solves moisture problems and reduces energy bills, too.
Stopping excess water vapor from entering your home is an important enough reason all by itself to install a vapor barrier in your crawlspace. Doing so will lower the humidity levels, prevent rot and corrosion, eradicate sources of mold and mildew, and improve indoor air quality throughout your home.
But it's not the only reason to consider the CleanSpace® Crawl Space Encapsulation System. By sealing out water vapor, you are also sealing air leaks, a major cause of energy loss.
We provide free estimates for crawl space encapsulation in Central Indiana. Contact us to learn more about how you can save energy with a sealed crawl space!
Infiltrating cold air in winter can no longer turn your crawlspace frigid, and first level floors will no longer feel cold underfoot. Warm, dank crawlspace air in the summer can no longer rise into your living space and cause your AC system to run in place.
While installing a CleanSpace® system, this is also the best time to add thermal insulation to the crawlspace. Sealing and insulating the crawlspace with the CleanSpace® vapor barrier and SilverGlo™ wall insulation can reduce energy expenses and improve comfort.
If your ductwork is located in the crawlspace, it is now within the conditioned envelope of the home. It will not need to be insulated, as it would if the insulation had been installed in the floor over the crawlspace instead of on the walls and the crawlspace floor. (Gaps or holes, however, should be sealed to maintain proper heated or cooled air distribution throughout the home.)
The combination of an insulated crawlspace and more efficient ductwork reduces heating and cooling costs by 25 to 50 percent when compared to a vented, uninsulated crawlspace.
With the annual heating and cooling costs for a 2,000 sq. ft. home ranging from $800 to $2,500, depending on the type of heating system and energy source (electricity, gas, or oil), that translates to big dollar savings.
Nobody likes living in an uncomfortable home and paying high energy bills. Meet with one of Master Service Companies's crawl space experts today! They can explain the energy-saving benefits of a sealed crawl space. Call us at 1-844-340-8064 or contact us online for a crawl space encapsulation quote in Indiana.
Looking for a price? Get a no cost, no obligation free estimate.